When it invades the beaches and harbors of the Caribbean.
Evidently this has been a challenge for months, as this article from October of 2014 indicates. And the article is correct; the Sargassum is smelly and a nuisance to humans — more disturbing is that it can prevent baby turtles from making their way to the ocean. Ironically, if one chooses (after talking with the ranger in charge) to rescue those turtles, the best place to restore them to the ocean is under a big clump of Sargassum.
Concerning the baby turtles, if they can be rescued from the beached Sargassum, the best place to turn them loose is likely to be in a mass of Sargassum that is in the open sea. In open water, they are vulnerable to consumption by numerous animals, but within the floating Sargassum, they have food and shelter. Young turtles, tunas, jacks, and numerous others rely on those grand floating islands of life.
Interestingly enough, DPNR supposedly prevented Crown Bay Marina from removing the weed for a week or so because of the wildlife harbored there. (One of our friends swears he saw a "baby shark" in the Sargassum.) During that same week, the safari bus I was riding was stopped in traffic along with hundreds of other vehicles while two front end loaders crossed the road to a dump truck. A crew with pitch forks was raking the Sargassum from the shore across from Carnival Park. Guess Carnival trumps baby turtles.
Go figure. This may fall into the category of our favorite St. Thomas bumper sticker: "Welcome to St. Thomas. You can't make this shit up!"
In the meantime, EW and I became adept at stopping the engine, raising the prop, and cleaning off the weeds. For days, I avoided going into Crown Bay, and when I did, I would paddle through the mulch. It was slow going and a great workout.
Until I undertook this bit of research, I had no idea that the brown seaweed making entry and exit to Crown Bay so difficult is the exact same stuff I would have been delighted to see had we sailed through the Sargasso Sea.  Look at that. We did sail through the Sargasso Sea, or should have. Neither EW nor I saw the sea last year.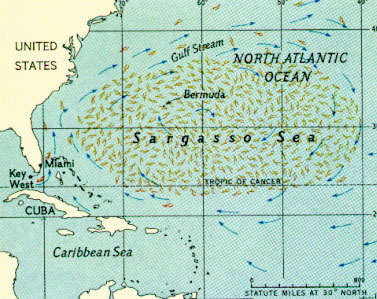 Must be a timing thing, as according to this article, that sea should have been within sight.
Oh no! Maybe we're to blame. Maybe the Sargassum has followed us to the Caribbean. (Cue creepy oceany music.) Sargassum is taking over! Run for your lives!
Yeah. Just kidding.
I wish all baby turtles safe passage. (Many of them go to the Azores, you know. Smart turtles.) And I have nothing against the baby sharks. (Wink, wink.) However, I was delighted that Crown Bay received permission to evict the Sargassum and send it back to sea. Bet those who work and live on the dock at Crown Bay were even more delighted.
And, under the category of "Keep Your Sunny Side Up!" here's a photo of my breakfast on Sunday. Those aren't potato wedges; they're apple wedges, sautéed in bacon grease and sprinkled lightly with cinnamon. Captain EW is THE BEST! (Note that he didn't fill my coffee cup though.)
---